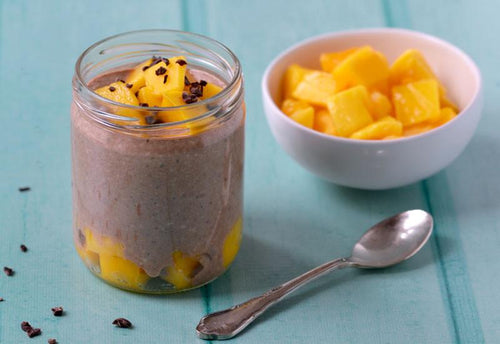 Cacao & Mango Overnight Oats
It's not always easy to find time for breakfast but we all know it's important. Overnight oats are the perfect solution. Prepare them the night before and just grab and go in the morning! This Cacao & Mango version is one of our favourites - full of energising, health-boosting ingredients and deliciously different! 
Ingredients:
Serves 1
1 tbsp Aduna Cacao Powder
1/2 cup rolled oats
3/4 cup non-dairy milk 
1 tbsp chia seeds
1 tsp vanilla extract
1 tsp-1 tbsp maple syrup
Pinch of salt
1/2 cup diced fresh mango
Extras: cacao nibs, nut butter, etc. 
Method: 
The night before, mix together all the ingredients, except the mango and extra toppings, in a bowl or jar.
Cover and refrigerate overnight. In the morning, layer up the oat mixture in a clean jar with fresh mango & add any extra toppings.
Enjoy! 

Recipe by Coconut and Berries