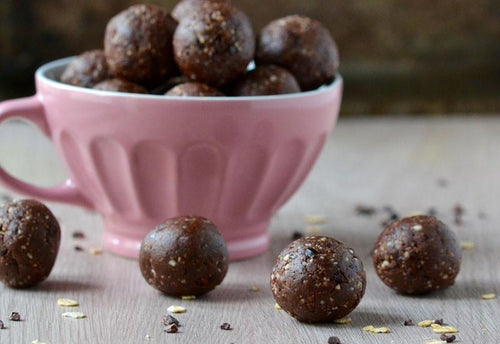 Cacao Bliss Balls
These Super-Cacao Bliss Balls are our go-to healthy snack. Sweetened only with fruit and full of sustaining oats and nuts, they're a true power snack with a delicious, rich chocolate flavour. Great for the whole family, there's always a batch in the fridge ready for whenever we need a pick-me-up or sweet treat.
Makes 14-16
Ingredients:
1/4 cup Aduna Super-Cacao Powder
1/2 cup almonds
1/2 cup + 2 tbsp oats
1 cup pitted dates
1 tbsp cacao nibs
1/4 cup raisins (or more dates)
1/8 tsp salt
1 tsp vanilla extract
Method:
Add almonds to a food processor and process until finely ground.

Add remaining ingredients, except cacao nibs and process until the mixture begins to clump together. It can take a few minutes so be patient!

Add the cacao nibs and pulse briefly to incorporate.

Roll the mixture into balls and store in the fridge or freezer. 
Enjoy! 
Recipe by Coconut and Berries