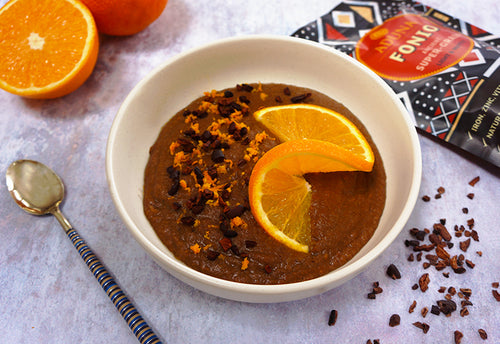 Cacao-Orange Fonio Porridge
This chocolate-orange fonio porridge is truly the breakfast of dreams! Rich and chocolatey with a moreish zing of orange, it is creamy, delicious and well worth getting out of bed for. Plus it is packed with vitamin C and iron, keeping you energised and immune strong. Enjoy!
Serves 2
Ingredients:
50g Aduna Fonio Super-Grain
1 heaped tbsp of Aduna Super-Cacao Powder
1 cup any plant-based milk of your choice (we like to use oat milk)
1 cup water
Juice and zest of an orange
1 tsp cinnamon
1 tsp vanilla
1 tbsp maple syrup or to taste
1 tbsp of cacao nibs (to top)
Method:
Add all the ingredients, except the toppings, into a pan on medium heat. Stir continuously for 10mins or until the mixture thickens to your desired consistency (the longer you cook it, it the thicker it will get). Transfer into bowls and garnish with your toppings.