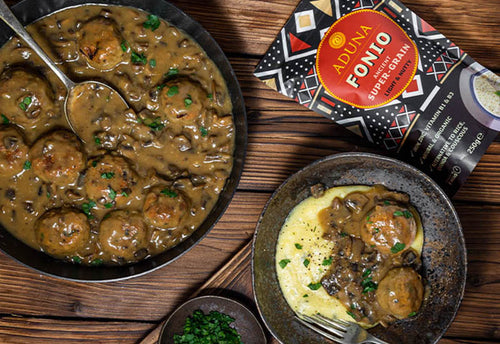 Fonio Balls in Mushroom Sauce & Creamy Polenta
Here's a winning recipe to add to your menu this week. We just can't get enough of this super comforting, nutritious and easy to make dish packed with fonio goodness. It's also 100% vegan so perfect for the whole family to enjoy!
Makes 12-14 balls
Ingredients:
For the Fonio balls:
1 1/2 cup Aduna Fonio Super-Grain, cooked
1/2 cup of flour 
1/2 cup of mushrooms, chopped
1 shallot, finely chopped
1/4 cup of fresh parsley, diced 
1 vegan egg 
2 garlic cloves, minced 
salt and pepper, to taste 
For the sauce:
2 cups mushrooms, chopped
3 tbsp vegetable or coconut oil 
1/2 cup dried porccini mushrooms 
2 cups of water 
1 garlic clove, minced 
salt and pepper, to taste 
1/2 cup vegan cream 
1 tbsp of flour, to thicken the sauce 
For the creamy polenta: 
1/2 cup of polenta 
1 1/2 cups of water 
1/2 cup of coconut cream 
1 tsp garlic powder 

To serve:
2 tbsp fresh parsley, diced
salt and pepper, to taste
Method:
For Fonio balls:
Add all ingredients to the food processor and pulse for 30 seconds until everything is well combined and the mixture is sticky enough to form balls. 
Using your hands, form balls using an ice cream scoop or just 2 tbsp of mixture. 
For the mushroom sauce:
Bring a large pot of water to boil and then add the dried porccini mushrooms Boil for 10 min, then set aside.
Heat the oil in a large pan over medium heat. Once hot, add the chopped mushrooms. Fry for a couple of minutes, add the salt and garlic and fry until mushrooms are slightly brown. 
Add the dried porcinni mushroom water, reduce the heat and bring all to simmer for a couple of minutes. Add the cream and cook for 5 min. 
If your sauce is too watery, remove 1/2 cup of sauce to a bowl, then add flour and mix well. Add it to the pan and cook for 2 min, mixing well until all is combined - this should thicken the sauce.
Transfer the fonio balls to the sauce and stir to coat. Cook for 2 minutes, to warm it up. 
For the creamy polenta:
Bring water to a boil then add polenta, mixing vigorously until well combined. Cook for 5-7 min, add coconut cream and cook for another 5 min until polenta is thicker. 
Serve with some salt and pepper for added seasoning and sprinkle with fresh parsley. 
Enjoy!