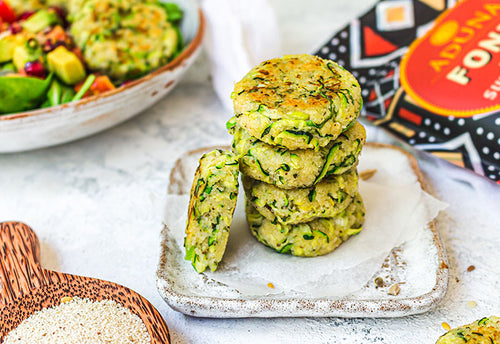 Fonio Courgette Fritters
Wholesome and vibrant courgette and fonio fritters perked up with fresh lemon and cooked until crisp and golden on the outside and tender in the middle. These fritters make a delicious brunch with salad and vegetables, a great snack, lunch or dinner option. They are naturally gluten-free, 100% plant-based and made from whole foods.
Serves 2 (makes 10-12 fritters)
Ingredients: 
50g Aduna Fonio Super-Grain
1 small courgette (150g)
1 tsp salt
½ of a lemon, zest and juice
handful of fresh mint, chopped
2 spring onions, thinly sliced
40g chickpea flour
salt + black pepper to taste
olive oil, for frying
Avocado Tomato Salsa:
1 avocado, cubed
160g cherry tomatoes, chopped small
handful of fresh mint, chopped
To serve:
salad leaves
hummus
seeds
pomegranate
Method: 
Place 50g fonio and 120ml water into a bowl. Cover and microwave (800W) for 3 mins. Stir and leave to cool for 3 mins. If cooking on the hob, place 50g fonio and 120ml water into a pan. Bring to boil, reduce heat and simmer for 3 mins, stirring occasionally.
Grate the courgette and place in a sieve over a large bowl. Sprinkle over 1 tsp salt and stir through. Leave to rest for 10 minutes and then squeeze out the excess moisture with your hands.
Add the courgette to a clean bowl with the zest of 1/2 lemon (save the juice for later), the chopped mint, spring onion and chickpea flour. Add to the fonio and mix everything together. Season with salt and pepper.
Shape the mixture into 10-12 fritters and press firmly between your hands to flatten. Wash your hands halfway through if they are sticky.
Heat a little olive oil in a large non-stick frying pan and cook the fritters for about 3-5 minutes on each side until golden brown.
Whilst the fritters are frying, stir together the avocado, chopped tomatoes, fresh mint, juice of the ½ lemon and some salt and pepper.
Serve the fritters with salad leaves, the avocado tomato salsa, some hummus, mixed seeds or pomegranate.
Enjoy!
Recipe by Nourishing Amy