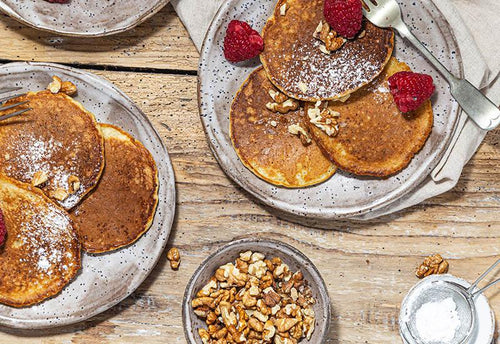 Fonio Pancakes
Who could pass on this delicious stack of fluffy Fonio Pancakes? Whipping these up for your loved ones will definitely get you some brownie points!
Makes 6-8 pancakes
INGREDIENTS:
1 cup of cooked Aduna Fonio Super-Grain 
3 tbsp oat flour  
1/2 cup of soy milk 
1 vegan egg 
1/2 tsp baking soda 
1/4 tsp baking powder  
1/2 tsp vanilla extract  
2 tbsp melted coconut oil, and 1 tbsp for frying
To serve:
icing sugar
maple syrup


METHOD:
Mix the cooked Fonio Super-Grain and dry ingredients together in a bowl and all the wet ingredients together in a separate bowl, then combine them together until you have a smooth mixture. Set aside for 10 min.
Heat a little coconut oil in a frying pan over medium heat, then spoon the batter, half a cup at a time, into the pan and spread into circular pancakes with a spatula. Fry the pancakes on both sides until brown.
Repeat until mixture is used up. Stack up the pancakes on a plate, drizzle with maple syrup, sprinkle with icing sugar or your favourite toppings.
Enjoy!