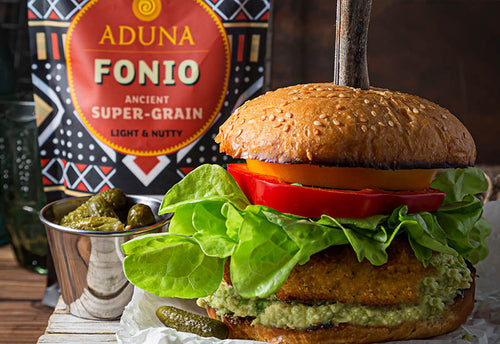 Fonio & Sweet Potato Burger
This mouthwateringly delicious fonio burger is plant-based, nutritious and packed with flavour. The patties are seasoned with a moreish mixture of roasted sweet veg and chilli oil, which compliments the mild nutty flavour of the fonio. The result is a perfectly balanced sweet and savoury burger that is delicate, moist and crispy at the same time.
Makes 2-4 burgers
Ingredients:
For the burgers:

1 sweet potato, peeled & chopped
1 small onion, peeled & sliced
3 garlic cloves, peeled & whole
2 tbsp chilli oil 
2 vegan eggs 
2 tbsp of flour 
3 tbsp breadcrumbs 
1/2 cup rolled oats 
salt and pepper, to taste
1 cup Aduna Fonio Super-Grain, cooked
vegetable oil for frying
To serve: 
burger bun, lightly grilled
smashed avocado
lettuce
sliced tomato/ sweet pepper
gherkins
Method:
Preheat your oven to 180 degrees. Place the sweet potato, onion and garlic onto a baking tray, coat with the chilli oil and bake in the oven for 20 minutes. Allow to cool.
Transfer the cooled baked ingredients along with the eggs, flour, breadcrumbs, oats, salt and pepper into a food processor. Pulse until combined, taking care not to over mix. Add the cooked fonio and mix with a spoon to combine. Set aside for 10 minutes.
Form 2-4 burger patties from the mix. Heat the frying pan with the oil, fry the patties for 3-4 min on each side on medium heat, or until golden brown and crispy on the outside.
Serve on a grilled burger bun, with your favourite toppings. We like ours with smashed avocado, lettuce, sliced tomato, sliced sweet pepper and gherkins.