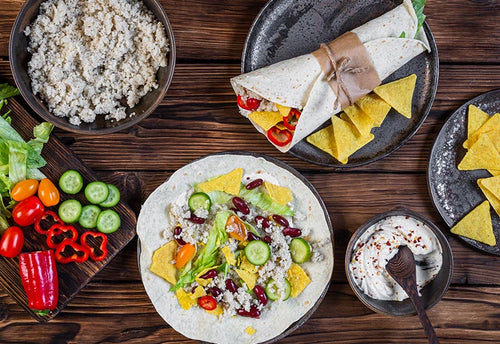 Fonio Wraps with Chilli Baobab-Tahini Tofu Spread
These wraps are easy to make and great for the whole family. Dine in or have them on-the-go for a nutritious meal to fuel your day.
Serves 4
Ingredients:
For the tofu spread:
1 tsp of
Aduna Baobab Powder
1 pack (approx 200g) of silken tofu 
2 tbsp of tahini
2 tbsp olive oil
a pinch of chilli flakes
1/3 tsp of salt
For the tortilla wrap and filling:
1 cup of
Aduna Fonio Super-Grain
, cooked
4 tortilla wraps
3/4 cup of plum tomatoes, quartered
2 baby cucumbers, sliced
1/2 cup of kidney beans
1 sweet pepper, sliced 
1 handful of lettuce
corn tortilla chips
Method:
Blend all ingredients in a food processor until smooth.
Toast the wraps on a pan until slightly warm before spreading the tofu mix onto them.
Add the fillings and wrap them up.
Enjoy!
Recipe by Ania's Vibrant Kitchen