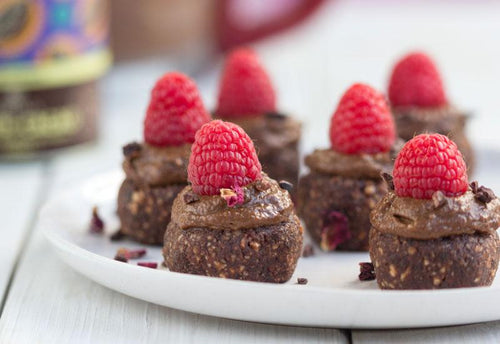 Hazelnut Cacao Mousse Cups
The ultimate nourishing treat, these hazelnut cacao mousse cups make for perfect party finger food, or simply as a mid-afternoon pick me up! The mousse is a Nutella lover's dream, and sits perfectly on top of the chewy, chocolatey base.
Makes 8-10
Ingredients: 
Base:
3 tbsp of Aduna Super-Cacao Powder
1 cup of almonds
12 pitted medjool dates

Cacao Mousse filling:
3 tbsp of Aduna Super-Cacao Powder 
4 pitted medjool dates (soaked for an hour)
3 tbsp of coconut oil, melted
2 tbsp of hazelnut butter
½ a ripe avocado
Method:
Start by making the raw chocolate base. Place the almonds in a food processor and blend until fine – you can leave some slightly larger pieces in if you want an added crunch! Add the medjool dates and cacao. Further blend until a dough forms and easily holds together.
Mould the dough into small balls, and create a well in the centre – mimicking a cup. Place in the fridge to set until the mousse is ready.
Make the hazelnut cacao mousse by placing the soaked date into a food processor, along with the melted coconut oil. Blend on a high speed.
Whilst the food processor is still blending, add in the hazelnut butter, cacao and avocado. Let the ingredients blend for a good few minutes, until the mixture is smooth. Top the cups with a generous dollop and finish with some fresh berries or cacao nibs.
Enjoy! 
Recipe by The Plantbased Londoner