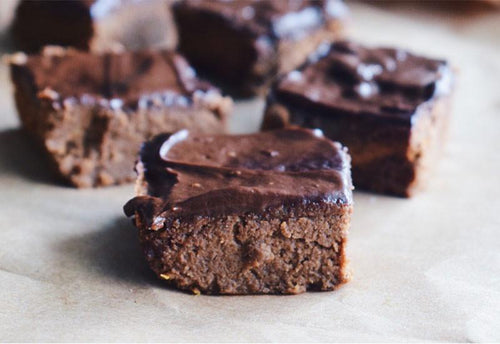 Chocolate Coconut Fudge Brownies
We can't get enough of these cacaolicious fudge brownies by Aduna Feel Good Triber Amy. Grain free, vegan and dangerously moreish, they're the perfect treat to whip up for when those chocolate cravings strike! 
Serves 20 

INGREDIENTS:
Dry:
1/3 cup Aduna Super-Cacao Powder
2 medium sweet potatoes
1 cup coconut flour
2 tbsp coconut sugar 
Wet:
1/4 cup canned coconut milk (if using light, chilled overnight)
1/4 cup maple syrup 
1/4 cup coconut oil, melted
Ganache:
1 tbsp Aduna Super-Cacao Powder (optional)
1 tsp coconut oil
80g full fat coconut milk 
1 cup dark chocolate chips
METHOD:
Preheat the oven to 180°C.

Peel and cook the sweet potatoes in boiling water until they are completely soft, then transfer to a large bowl and mash. Allow to cool for a few minutes before adding all the wet ingredients and mixing well.
In a separate bowl mix the rest of the dry ingredients using a whisk, making sure there are no lumps. Then fold into the wet ingredients until combined. Pour the batter into a parchment lined brownie tin and bake for 10-12 minutes. Once cooked, remove from the oven and allow to cool completely. 
To make the ganache, melt the oil in a saucepan on a low heat then add the chocolate and mix while the chocolate starts to melt. Finally add the coconut milk and mix using a whisk. Add the cacao powder if you desire a thicker consistency and a rich chocolate taste.
Remove from the heat and allow to cool completely before spreading over the brownies and cutting into squares.
Enjoy!
Recipe by A Gypset Life