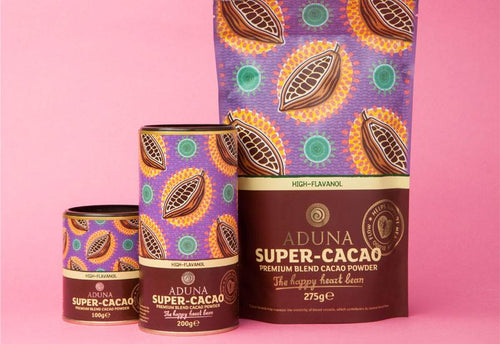 Where to Buy Super-Cacao Powder in London
You can buy Aduna's cacao powder in health stores across London, including Holland & Barrett, Whole Foods, Planet Organic, Revital, Panacea, As Nature Intended and many other independent stores. You can also buy direct from our online shop.
Aduna Super-Cacao is one of the best-selling cacao powders in London. A premium blend of high-flavanol cacao powder scientifically-proven to support heart health and luxuriously rich cacao from Ghana, it is 100% natural, rich in protein and fibre and a source of magnesium and potassium. 
Aduna's Cacao Powder has a rich, chocolatey flavour. Simply mix with hot milk and sweeten to taste for a healthy hot chocolate - we like ours with a few drops of vanilla essence and a sprinkle of cinnamon. Equally delicious served cold.
Try blending into smoothies, stirring into porridge, or sprinkling on yoghurt or cereals. Use as a nutritious alternative to cocoa powder in baking recipes. 
Head over to our store locator to find your nearest London stockist, or order direct from our online shop with free delivery over £35 to any UK postcode  or £75 for international. Enjoy!