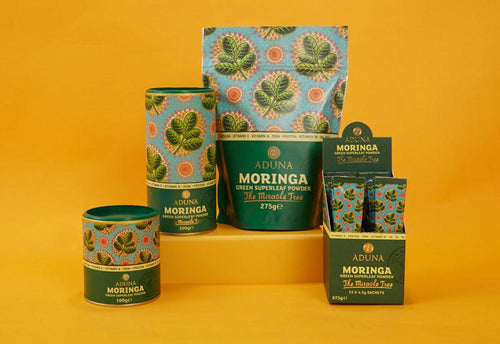 Where to buy moringa in London
Moringa is a rich source of iron helping fight tiredness and fatigue. It is rich in plant protein including all 9 essential amino acids, vitamins E & K and fibre supporting digestive health. It is also a source of calcium and vitamin A and extremely high in antioxidants. These nutrients combine to give it a wealth of health benefits, ranging from energy release to skin health, digestion and immunity.
You can buy Moringa in most London health food stores including Holland & Barrett, Whole Foods, Planet Organic, Revital, As Nature Intended and many other independent stores - head over to our store finder to find your nearest stockist. You can also order from our webshop, our Moringa range includes:
Aduna Moringa Powder - 100% organic moringa leaves, dried and filtered to make a pure powder. With a vibrant green colour and a delicious spinachy taste, use to boost green smoothies, juices or as a "superfood seasoning" for savoury dishes. Start with 1/2-1 teaspoon a day before building up to 2-4 teaspoons. From £6.99 for 100g. 


Aduna Moringa Capsules - made using the same best-selling powder for an easy and convenient way to enjoy the benefits of moringa on-the-go. Each serving contains 1500mg of pure moringa powder and every bottle provides a 2 months supply.


Aduna Mint, Nettle & Moringa Super Tea

 

- an award-winning infusion of peppermint and nettle super-charged with moringa, this super-cleansing brew is a refreshing, delicious digestif.
Buy online today and receive free delivery on all orders over £35 in the UK and £75 internationally. Sign up to our newsletter and receive a 15% off discount code direct to your inbox.