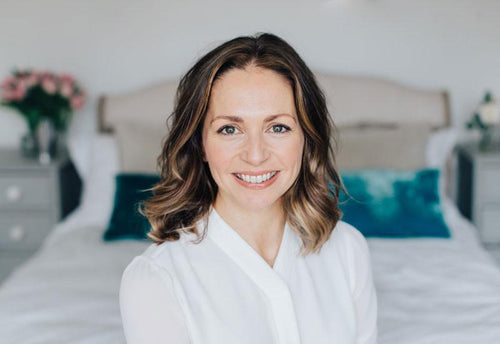 Top Tips For Glowing Skin by Celebrity Facialist Abigail James
"Skin coach", celebrity facialist, mum and author, Abigail James is one of the beauty industry's most revered experts when it comes to skin. Born in the Cotswolds, Abigail's interest in health, nutrition and beauty grew from a young age. After training as a beauty therapist in her early 20's and developing and refining her methods through continuous study, Abigail relocated to London where she has established herself as one of the city's most respected voices within the health & beauty industry. 
Following the release of her first book, we caught up with Abigail to get the lowdown on her beauty secrets. 
What are the common misconceptions and mistakes people make in their skin care routine?
Common mistakes are not cleansing morning and night and choosing the wrong products for your skin type. 
Common misconceptions are that facials don't achieve notable results; they really do if you make them part of your well-being routine. 
You are hailed to have 'magic healing hands', do you think it's necessary for people to invest in regular facials? 
If you want to improve and maintain your skin to the best you can then absolutely yes! However I know budget, time and life does not always allow for the necessity of a facial - that's when your home care routine becomes doubly important. 
What is your daily skin care routine? Are there any products you swear by?
In the morning I use facial wash with warm water and a muslin and finish with cold water. I then apply a serum either vitamin c, antioxidant, or hyaluronic acid. Then I moisturise, and apply a mineral foundation with built in SPF.
In the evening I usually double cleanse (an oil then a wash) alternative nights. I either apply a retinol serum or a face oil and I do a face mask and deeper exfoliating such as a peel at least once a week. 
What are your top tips for younger looking skin?
Low level peels really are skin reviving and a real game changer in terms of skin brightness and texture. And perhaps the easiest tip is to eat well: you can't eat rubbish and expect your skin to look vibrant! 
How much does diet affect your skin health? What are your top foods for glowing skin?
It still surprises me we question 'we are what we eat'. You can't put diesel into a rocket and expect it to get to the moon, or even take off!  Avocado, raw cacao (yep chocolate) and red berries - I'm particularly loving pomegranate right now. 
What can people expect from your debut book Love Your Skin: The Ultimate Guide to a Glowing Complexion? 
The book is packed with easy to read knowledge, tips and advice in a visually beautiful way. It covers everything from the nitty gritty of the ageing process, how stress can impact your skin, key skincare ingredients to use, what to avoid, the best and worse foods for your skin, all the way through to how to squeeze a spot and what technology might be used in a facial to work for specific skin cancers.
Find out more and order her book on Abigail's website. 
More like this:
What Are Antioxidants & Why Do We Need Them?