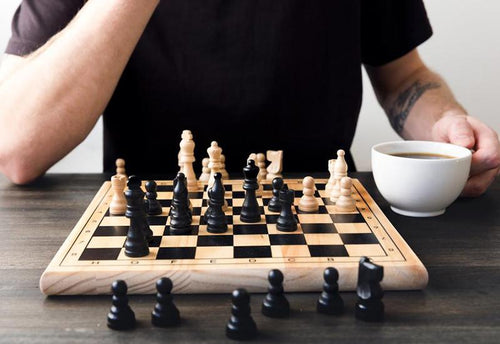 Top Tips for a Digital Detox
With countries around the world practicing social distancing, smart phone users have been shocked by their increased weekly screen time reports as we all turn to our digital devices to stay connected. Studies have shown that excessive smart phone use can negatively affect our mental health and also inevitably leads to us consuming more news, which can add to anxiety levels.
Reducing screen time can help improve our wellbeing – and it's easier than you might think. Here are our top tips for putting those screens down:
1. Turn off notifications – reduce the number of notifications you get on your phone or even better, turn them off altogether. That way you are in control of when you look at your phone to see who has been in touch.
2. Reduce your news consumption - unsubscribe to news alerts on your phone and reduce the amount of news you read or watch as much as possible. Listening to the radio is a good way to keep up with news bulletins without using a screen. Or subscribe to a podcast that gives you a brief daily update and listen to it in the morning so you can switch off for the rest of the day. BBC World Service has a 5 minute Coronavirus Global Update podcast or Today In Focus from The Guardian covers UK news in 25 minutes or less.
3. Listen to feel good music – studies have shown that the brain releases dopamine, the "feel-good" neurochemical, when listening to music so why not create a playlist of feel good tunes; take it in turns to be the DJ in your house, share playlists amongst friends, get the record player out of the cupboard or switch on the radio.  Spotify's Mood Booster and Happy Hits playlists are full of upbeat tunes.
4. Keep your phone out of your bedroom – this one simple act can be transformative as it removes the temptation for endless scrolling and keeps your bedroom as it should be: a place of rest. If you normally use your phone as an alarm, buy a traditional alarm clock - those that wake you up naturally with light, this one for example, are particularly good.
5. Play a board game – it's no surprise that puzzle sales are up 250% in lock-down as they can have a hugely positive impact, absorbing our attention and calming our overactive minds. They are also very satisfying to complete so blow the dust off that old 1,000 piecer in the cupboard, fish out your family favourite board game from days gone by and get everyone involved!
6. Read the paper version – subscribe to a print magazine about a topic you love (Healthy, Breathe, Olive are a few favourites) or go to your book-shelf and pull out a novel you haven't read before. Getting lost in the pages is a great escape from reality and an enjoyable way to switch off.
7. Write a letter – if you have children, get them to paint pictures for family members or write them a letter. A surprise through the letterbox always lifts the spirits and the physicality of a letter you've both touched is a nice way to feel connected.
8. Get green-fingered – if you have a garden, window sill or balcony that you can grow something in, buy some seeds or plugs and soil from an online garden centre and get planting. There's something innately gratifying about watching plants grow. Our favourite sites are crocus.co.uk for plants and organicplants.co.uk for veg and the RHS has plenty of advice for beginners. Or why not bring some greenery indoors and buy yourself an indoor plant - Patch Plants offers a great selection for Londoners. 
9. Give your brain a workout – if you have the time, try doing the crossword in your newspaper. Whether you're a quick or cryptic pro, completing a cross word, Sudoku or codeword a day is a valuable break from scrolling.
10. Ready, steady, cook – cooking is well-known for its therapeutic properties and now the food supply chain is getting back in balance, there's no better time to get in the kitchen! Make a recipe you've never tried before (we have hundreds of delicious, nutrient-packed dishes on our website), get baking with the kids or why not choose a theme for the food and match the music and drinks as you eat! Some of our favourite cookbooks include Hemsley + Hemsley's The Art of Eating Well, Madeleine Shaw's Ready, Steady Glow and Rukmini Iyer's The Green Roasting Tin.
We hope these tips help in some small way to keep you and your loved ones feeling good during these extraordinary times. If any of them work for you, tell us on social media, we love to connect!