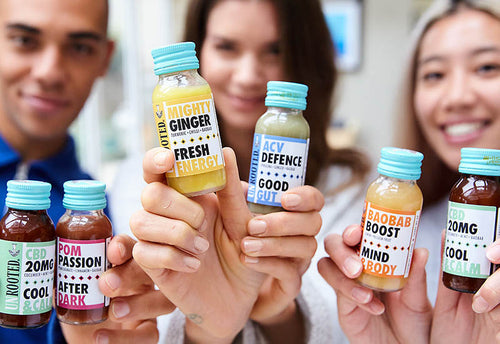 Unrooted Drinks: Baobab-packed super shots to fuel your day
Modern life often requires us to be switched on 24/7 and it can be hard to sustain your energy levels to keep up the pace! We've all been there: resorting to strong coffee or sugary snacks to get through the day despite the inevitable post-high slump and to the detriment of our health goals.
If in doubt, baobab always has the answer - especially when it comes to a natural energy source - and at Aduna Towers we are loving Unrooted's Super Shots to sustain our energy levels all day long.
Nathan, the founder of Unrooted Drinks, learned about the wonders of baobab during a trip to Kenya and was inspired to produce a drink that provides the body with "fresh energy" created from all-natural ingredients and no caffeine. Recently, they have launched a range of functional shots, each inspired by the legendary fruit.
Available in five tasty flavours: Mighty Ginger, CBD & Cucumber-Mint, Apple Cider Vinegar & Spirulina, Baobab Boost and Pom Passion, Unrooted Drinks are currently sold in the UK at Selfridges, Planet Organic, Amazon, their online store and are now available in selected Sainsbury's.
For more information visit the Unrooted Drinks website.