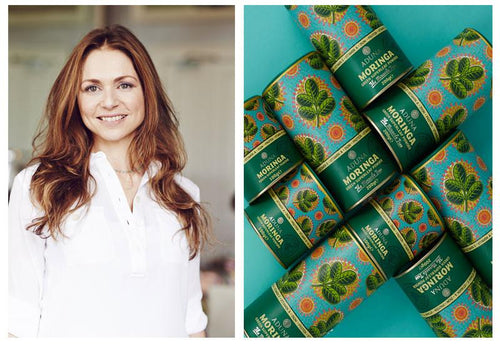 The Super Skin Benefits of Moringa by International Facialist Abigail James
Skin is the body's biggest organ, it is our first line of defense, protects us from everything we encounter and is also a very good indicator of our internal health. International facialist, skin expert and wellness therapist Abigail James has been treating clients for over a decade. Her expertise in her field has led to her being appointed as Global Skincare Ambassador for world-renowned skincare brand Liz Earle. We caught up with Abigail, to take a closer look at moringa and how it can help the skin naturally restore and rejuvenate. 
Moringa skin benefits
"As a superfood, Moringa encompasses a plethora of high level essential skin benefiting properties, including mega antioxidant levels and a huge number of essential vitamins and minerals not often found in one supplement.
Vitamin A
Moringa is a rich source of Vitamin A, which is absolutely key to anti-aging, healthy cell turnover and skin health. It's also rich in Vitamin E, which is essential for retaining moisture and protecting against free radical damage including UVs so its ideal for taking as a regular daily supplement to prevent sun damage.
Niacin
Moringa is a source of Niacin (Vitamin B3), which is key for the skin's healthy barrier protection, keeping moisture in and irritants out. It's been known to be helpful in the treatment of sensitive skins and rosacea, and also to help minimise dark spots.
Riboflavin
It's also a rich source of Riboflavin (Vitamin B2), which is essential for normal healthy cell growth and repair so it helps heal and reduce scarring in the skin. It's also known to be good for eczema conditions.
Zinc
It's a source of Zinc, which is essential in wound healing and healthy cell renewal, a key aspect nutritionally for acne sufferers who are often deficient in this.
Protein & Amino Acids
Finally, it's nearly 25% plant protein including all nine of the essential amino acids. Amino acids are essential for the connective tissues and keep the skin smooth, elastic and strong. They are the skins' building blocks, the part of the cells which gives it its structure. With 20% of the human body being made of protein this level of amino acids in Moringa is fantastic for the skin. Amino acids are essential for wound healing, so cell turnover and tissue repair as well as the removal of waste deposits. So moringa is great for keeping the skin fresh and clear". 
Abigail's treatments are available at the Liz Earle Duke of York Square store (38-39 Duke of York Square King's Road SW3 4LY). Home visits are available in Surrey and London.  For more information, please visit: www.abigailjames.com.