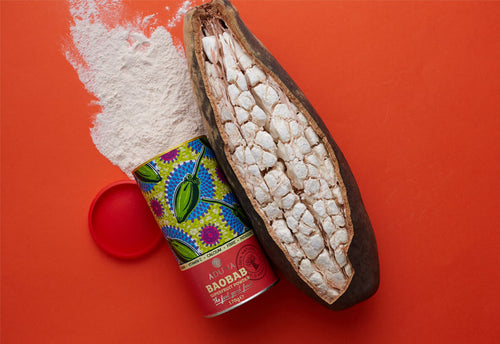 Baobab: the Ultimate Pregnancy Superfood
In the journey towards motherhood, it is important to take care of your body and make sure that it is getting everything it needs in order to conceive and then grow a new life.
As Nutritional Therapist Eve Kalinik explains "pregnancy is one of the most notable times where women are more conscious about their diets, nutrient intake and overall health. Of course, cleaning up the diet to reduce any processed or refined foods, reducing stimulants such as coffee and increasing the intake of beneficial foods such as those high in folate are all part of supporting a healthy and happy pregnancy.  Eating well during pregnancy is really the core principle here; making sure that you have a balanced and nutrient-dense diet is crucial but extra support can also be a valuable tool."
This is where superfoods can help. Although the term "superfoods" attracts a lot of debate, it's meaning is simple: it simply denotes a food which is exceptionally nutrient-rich. As superfoods are natural whole foods, their nutrient content is more bioavailable and therefore more easily absorbed by the body than with manufactured tablets. This means superfoods can be a powerful way to supplement your diet with the essential vitamins, minerals and macronutrients required during pregnancy.
One of the world's most nutrient-rich superfoods is the African baobab fruit. Rich in vitamin C, fibre and antioxidants, it has a delicious sweet and citrussy flavour and is widely regarded to be the ultimate pregnancy superfood.
The Pregnancy Superfood from The 'Tree of Life'
Known as the 'Tree of Life,' baobab trees have a long and sacred association with childbirth in Africa. Growing for up to 5,000 years and 30 metres tall, these majestic, prehistoric trees are considered by many tribes to be the resting place of their ancestors. They are revered spaces and serve as ceremonial altars, sources of advice and the spiritual centre of the community.
Baobab trees have vast, swollen trunks which often become hollowed-out inside over time. In certain tribes including the Hadza tribe in Tanzania, women choose to give birth inside baobab trees. They go into the tree alone, take everything they need with them and do not come out for many days after the birth of their baby. Giving birth inside the baobab tree provides the women with shelter from animals and rain, privacy, warmth and security as well as protection from the spirits of their predecessors.
This concept of the 'baobab tree' is widely taught in hypnobirthing classes in the West where women are advised to create their own 'baobab tree' at home – a space in which they surround themselves with things that make them feel relaxed, comfortable and safe to help release fears and anxieties during labour. They are encouraged to take these items with them to hospital to maintain a sense of calm and comfort within the unnatural, medicinal environment. (To find out more, check out Natal Hypnotherapy by Maggie Howell)
Baobab & pregnancy: so what is it good for?
So long associated with childbirth, it is fitting that the fruit of this ancient African tree also happens to be one of the most effective natural supplements for pregnancy and new motherhood. Here's why:
As the only fruit in the world that dries while it is still hanging on the branch. The fruit has a hard coconut-like shell which simply needs to be harvested, cracked opened and sieved to form a natural superfood powder that requires no additives or preservatives.  
Baobab fruit powder contains 6x vitamin C of an orange, is almost 50% fibre (half soluble and half insoluble) and contains more antioxidants than any other whole fruit, supporting a wide range of health benefits during pregnancy.
HIGH IN VITAMIN C:
A single serving of Aduna Baobab Powder (10g or 2-3 teaspoons) contains 33% of your daily vitamin C requirement (NRV). Unlike other animals, the human body cannot make or store its own vitamin C so during pregnancy, both you and your baby need to get a good supply daily.
Vitamin C is needed to make collagen, the most abundant protein in the body and a vital component of skin, teeth, cartilage, tendons, gums, bones, and blood vessels.  
A diet rich in vitamin C also helps maintain a strong healthy immune system, which is crucial during pregnancy and in the run up to birth. It also supports normal functioning of the nervous system and psychological function.
As Eve explains "Baobab is a rich source of vitamin C, which is one of the vitamins needed in higher quantities during pregnancy. Adding a couple of teaspoons of baobab powder to your morning smoothie, yoghurt or cereal is an easy and completely natural way to increase your intake."
AIDS IRON ABSORPTION:
Iron is essential to the human body to build enough healthy red blood cells and keep your haemoglobin at the right level. If your body lacks the right amount of iron, you could become anemic. Iron deficiency is by far the most common cause of anemia in pregnancy, so it's important to make sure you are getting enough in your diet. 
This is where baobab comes in! Due to its high vitamin C content, baobab helps the body to absorb iron, which is also essential for reducing tiredness and fatigue. Try mixing baobab powder into orange juice to take with your iron supplement or pregnancy multivitamin in order to maximize the iron absorption.
NATURAL ENERGY BOOSTER:
Feeling tired and experiencing a general loss of energy is one of the most common complaints during pregnancy and new motherhood. It is important that you rest as much as possible during pregnancy as your body needs to preserve its energy to support the new life it is growing.
One of the key nutrients needed for energy release is vitamin C so thanks to baobab's high vitamin C content, it is an effective natural energiser.
As baobab powder is 100% fruit, it is natural and much safer to consume compared to energy drinks and caffeine, which may have components that could be harmful to a developing baby.
HIGH IN FIBRE:
Another common side effect of pregnancy is bowel irregularity and particularly, constipation.
Baobab powder has high levels of both soluble and insoluble fibres (about 3.4g of soluble fibre and 1.2g of insoluble per 10g serving). The recommended amount of fibre per day is around 30g and should include equal amounts of soluble and insoluble types. 
Insoluble fibres are not digested by the body. Instead, they soak up water and expand, passing through the gut and helping other foods move through the digestive system. A diet rich in insoluble fibres can help increase regularity and alleviate the symptoms of constipation.
The soluble fibres in baobab are absorbed and provide prebiotic effects, stimulating the growth and activity of beneficial probiotic bacteria and helping maintain gut health without the need for harsh chemical laden laxatives.
HELPS WITH MORNING SICKNESS:
70-80% of women experience some form of nausea and vomiting while expecting. As well as negatively impacting your quality of life, it can also lead to dehydration.   
Vitamin C has often been turned to as a natural remedy for nausea. In one study (Merkel, 1952), women who took 25mg of vitamin C combined with 5mg of vitamin K per day reported significant improvement of symptoms within just three days, with some women reporting symptoms disappearing completely.
Shaking a couple of teaspoons of vitamin C rich baobab powder into your water bottle and sipping throughout the day can help settle the stomach and is great for rehydrating the body and replenishing lost nutrients.
NATURAL, DELICIOUS AND EASY TO USE:
Unlike many other superfoods, Baobab Powder has a delicious sweet and citrussy flavour, a bit like zingy sherbet. In fact, Aduna's baobab powder is the first superfood to ever win a prestigious UK Great Taste Award.
Baobab's delicious taste means it is easy to incorporate into your daily routine. In Africa, where this super-fruit is readily available, it is common practice for the women to enjoy the baobab fruit pulp during pregnancy and when breast feeding.
Aduna Baobab Powder is available as a 100% natural and organic powder, perfect for blending into smoothies or sprinkling onto yoghurt, porridge, fruit or granola.
Baobab powder is also delicious shaken into your water bottle, mixed with sparkling water or stirred into hot water with lemon and ginger (make a paste with a little liquid before topping up your glass). 
For recipe ideas, check out our baobab recipes.
Why not sip on our Baobab Super-Tea - an energising fusion of citrussy baobab fruit, fiery ginger and zesty lemon all of which are known to enhance energy, vitality and general wellbeing in the body.
Buy Aduna Baobab:   
Aduna's multi-award winning baobab range is available to buy in 2,000 stores in 18 countries around the world.
Find a store near you or shop online and we will deliver direct to your door. We dispatch all orders on the same day if you order before 3pm UK time and offer free delivery on all orders over £35 UK and £75 international.
As Aduna is a social business, we work in partnership with rural communities in Africa to harvest and process their baobab fruits. Every purchase contributes to the creation of sustainable income streams for women in Africa, helping them provide basic needs for their families. Find out more about our mission here. 
Read more baobab benefits:
The super-skin benefits of Aduna Baobab Superfruit Powder - International Facialist Abigail James
 "Improve your digestion and re-boost your body with this super supplement" - Get The Gloss
Sources:
Health Claims: EU Register on Nutrition and Health Claims
Antioxidants: The Antioxidant Food Table, Carlsen M.H et al, 2010, Journal of Nutrition, 9:3