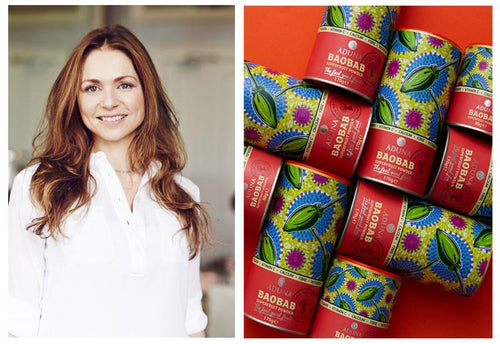 Baobab Skin Benefits by International Facialist Abigail James
When it comes to superfoods for healthy, glowing skin, Baobab superfruit leads the pack. Aduna Baobab was one of the first food items to be stocked in the beauty halls at prestigious London department stores Liberty and Selfridges thanks to its many beauty boosting properties. 
Abigail James is an international facialist, skin expert and wellness therapist with over 10 years' experience.  She approaches health and beauty from the inside-out and the outside-in and is a big believer in the power of superfoods to help keep us feeling and looking great! We asked Abigail just why baobab is such an amazing booster for skin:
Vitamin C
Vitamin C is vital for cell protection, regeneration, the immune system, energy, iron absorption, healthy bones and blood vessels and is one of the best skincare ingredients for anti-ageing. This amazing superfruit is packed with 6 times more vitamin C than oranges as well as twice as much calcium as milk, thiamin, and vitamin B6.
Antioxidants 
Antioxidants are a key anti-ageing ingredient to digest internally and apply to the skin. Thanks to their free radical scavenging ability, they help prevent premature skin ageing and reduce the speed at which the skin cells age. Baobab contains 20x the antioxidants of green tea and more than blueberries and pomegranates combined, so adding Aduna Baobab to your already antioxidant packed fruit and vegetable smoothies and juices, gives you a super-powered skin improving boost in a very simple way.
Polyphenol
Baobab's polyphenol content is higher than lots of other fruit. Polyphenols are antioxidant plant chemicals including flavonoids, bioflavonoids, flavanols and tannins, which are often used in anti-aging skin cream formulations.
Aduna Baobab powder sweet, tangy taste is great to add to juices, or sprinkled on bircher muesli or another personal love is coconut yoghurt, blueberries, a teaspoon of baobab, sprinkle of cinnamon and honey. You could even use this as a face mask as well as eat it for dessert!
Abigail's treatments are available at the Liz Earle Duke of York Square store (38-39 Duke of York Square King's Road SW3 4LY). Home visits are available in Surrey and London.  For more information, please visit: www.abigailjames.com.