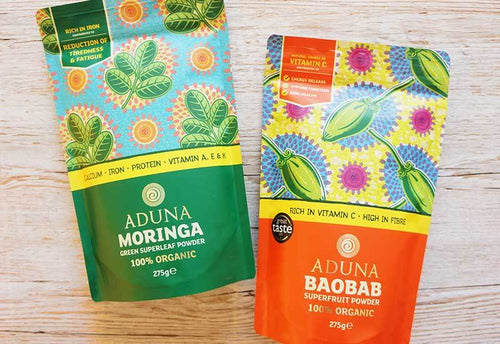 Immune-boosting Baobab & Moringa Bundle
When it comes to boosting the body's natural defence system, our Baobab & Moringa Bundle is packed with nutrients that can help. Shabir Daya, pharmacist and co-founder of natural health platform Victoria Health explains how this superfood power duo can strengthen our immunity. Scroll down to read and for details of our special offer while stocks last.
BAOBAB POWDER: 
"The immune system is one of the most complicated systems within the body involving several organs, chemicals, blood cells, hormones and even probiotics that all play a role to help maintain a healthy immune system. In order for the immune system to work efficiently, it places a high demand for nutrients which we cannot always fulfil from our diet.
Baobab is an African superfruit that dries in its shell while hanging on the branch creating a natural, nutrient-rich fruit powder. Aduna Baobab Powder is especially rich in vitamin C which we know may be useful to prevent and treat infections.
It is also a great source of prebiotic fibres which act as a food source for probiotics to thrive in the gut. It is vital to keep the gut healthy because these beneficial bacteria work to manufacture antibodies which detect any pathogens in the bloodstream. Once detected, white blood cells move in order to eradicate these invaders.
To summarise, Baobab Powder not only supplies nutrients to maintain a healthy immune system, it also works to ensure that our body's immune response is primed and ready to fight illnesses and infections."
MORINGA POWDER:
"Moringa Powder, made from naturally dried leaf of the Moringa 'Miracle' Tree, offers a slightly different approach to help maintain a healthy immune system. Since antibodies, made of protein, are required to identify any pathogen, moringa supplies this in abundance and in a form that is easy to utilise to ensure that the body is not protein deficient.  
Aduna Moringa Powder is also a great source of several vitamins and minerals to ensure that the immune system is nourished since the immune system relies heavily on nutrients for its optimal function. Moringa is a rich source of iron, a mineral that is absolutely crucial for the specialised white blood cells to mature in order to eradicate possible pathogens. Iron also helps the body absorb vitamin C so moringa and baobab complement each other well.
Finally, moringa works very effectively as an adaptogen helping to try and balance the stress response within the body. Stress is a concern that compromises the immune system since during times of stress, corticosteroids are produced which suppress white blood cell counts. By helping to tackle the stress response, moringa ensures the immune system can carry on defending our bodies."
HOW TO USE:
Baobab powder has a zingy sherbet flavour, ideal for both adults and kids – add 2-4 teaspoons a day to smoothies, juice, breakfasts, yoghurts or water.
Moringa powder has a green spinachy flavour. Take ½ a teaspoon to 1 teaspoon a day added to curries, sauces, soups, salads, green smoothies or wherever you can sneak it in. It is also delicious as a shot with apple juice or as a latte with a drop of honey.
You can also take them together in this delicious Immune Boosting Baobab & Moringa Smoothie, which the whole family will love!
As Baobab and Moringa are natural powders, they have naturally long shelf lives so are an ideal store cupboard ingredient in case of issues with fresh fruit and veg supply. 
 As always, every purchase helps create sustainable livelihoods for women in rural Africa so thank you for your support, stay safe and keep well!