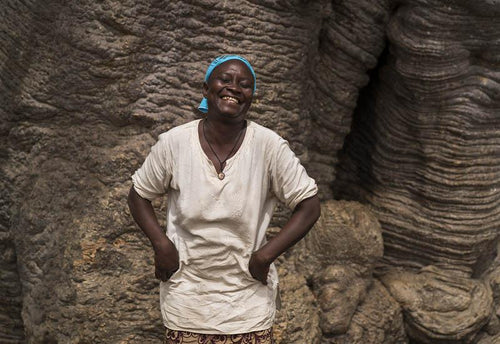 Avoabu Konuga
Aduna brings African superfoods from village to shelf, creating sustainable livelihoods for producers. Through our baobab fruit supply chain, over 2,300 women in Upper East Ghana and Centre-Sud Burkina Faso are receiving sustainable incomes.  Here is the story of one of these women, Avoabu Konuga.
6 kids. 4 grandkids. Baobab Farmer. Nankum, Burkina Faso.
"My whole family farms but none of my children farms by choice. School got expensive so they had to drop out. In the past, I could plant three bowls of groundnuts and harvest three bags. Today, I plant ten bowls and I'm lucky to harvest one bag. We are using stones to help the land retain rain water so that the soil gets richer. The baobab, however, has been a phenomenal help. I sold four bags to Aduna and bought a bicycle with the money. Now my children are back in school. Recently my son needed money for school fees. It was baobab money I gave him.  
With the Great Green Wall we are going to plant new trees in the rainy season. This makes me happy. I planted a moringa tree that grew so tall, it was taller than me but, one day, I went to the market and the donkeys came to eat it all up. When I got back, I couldn't tell exactly which donkeys did that to me. When you are bringing us seedlings to plant, please bring me plenty." 
Interview and photographs by Nana Kofi Acquah.