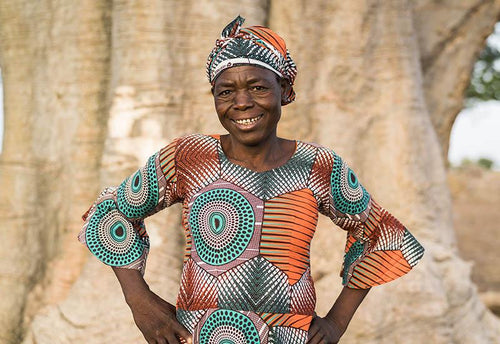 Kachana Ade
Aduna brings African superfoods from village to shelf, creating sustainable livelihoods for producers. Through our baobab fruit supply chain, over 2,300 women in Upper East Ghana and Centre-Sud Burkina Faso are receiving sustainable incomes.  Here is the story of one of these women, Kachana Ade.
Widow. 7 kids. Baobab Producer and Farmer. Kayilo, Ghana.
"Before my husband passed away, we always struggled to find food to feed the family. My youngest child migrated South to look for work. Now thanks to the baobab work and the cooperative, life is better. I collect baobab fruits and sell them to Aduna. I actually do less work than before and make more money! And even when I am broke, I can access some extra money from the cooperative. I used to be shy and I avoided interacting with people. Now I am able to sit in the midst of people, chat freely and speak my mind.
I planted a lot of trees but termites ate them all. I will like to plant new trees but I will need to treat the soil first. I am aware that the environment is changing. The land is losing its fertility but we've been trained on how to make compost and apply it on the land to increase fertility. I hope this sustains our land for the future. Some of my children want to be farmers too."
Interview and photograph by Nana Kofi Acquah.