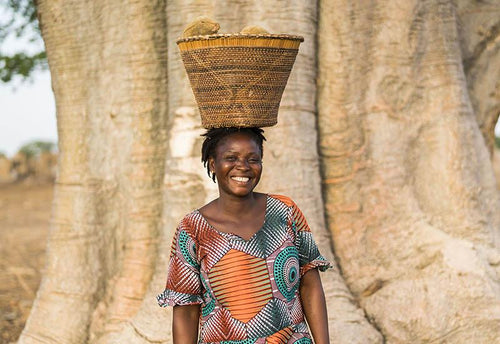 Lardi Woebapora
Aduna brings African superfoods from village to shelf, creating sustainable livelihoods for producers. Through our baobab fruit supply chain, over 2,300 women in Upper East Ghana and Centre-Sud Burkina Faso are receiving sustainable incomes.  Here is the story of one of these women, Lardi Woebapora.
Married. 4 kids. Baobab Producer, Farmer and Foodseller. Bello, Ghana.
"My name is Lardi, I am a farmer. My husband is a farmer. Farming is how we feed our family. I also collect baobab. I've been doing it for a while, and since Aduna started buying from us, I am making some money. Baobab has many benefits. I make soup with the leaves and porridge with the powder. When we pick baobab fruits we sell them for good money.
I am part of the tree planting group. When I am dead, my children will inherit our land. They will benefit from the trees I have planted. I planted moringa because it too has a lot of benefits. If my children are sick I pluck some of the leaves, boil and give it to them, and they recover. I also make kenkey, which I learnt from my mother. Everybody in this community knows me. They know when they are hungry and there is nothing to eat, Lardi will feed them."
Interview and photographs by Nana Kofi Acquah.