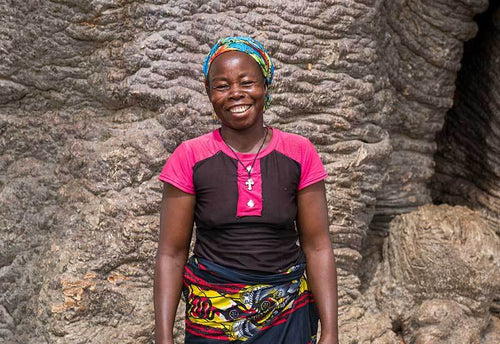 Yarabu Amokudaga
Aduna brings African superfoods from village to shelf, creating sustainable livelihoods for producers. Through our baobab fruit supply chain, over 2,300 women in Upper East Ghana and Centre-Sud Burkina Faso are receiving sustainable incomes.  Here is the story of one of these women, Yarabu Amokudaga.
Married. 7 kids. Baobab Producer & Farmer. Nankum, Burkina Faso.
"We are a family of farmers. I also trade whenever I have money. I like to buy things in bulk and sell them in bits. It is profitable but from when I was born and learned to walk, I have been farming.  When I was old enough to get married, I also married a farmer and we've been farming all along. We farm rice, maize and millet.
When I was young, we farmed on small pieces of land and harvested bountifully but now we keep increasing the size of our farmlands, and yet our harvests keep shrinking.
The Great Green Wall is about planting trees. When I plant a tree, it will one day bear fruits which I can sell to make money. And finally, when I am dead and gone my children and grandchildren will get to benefit from the tree. Trees are our gift to the future."
Interview and photographs by Nana Kofi Acquah.