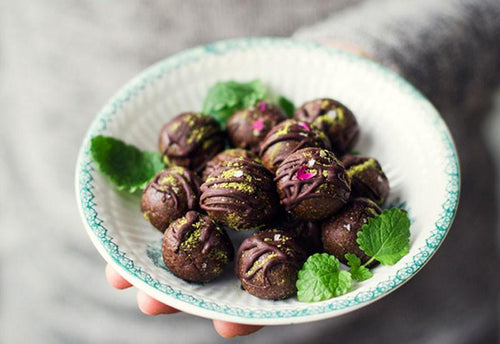 Moringa Chocolate Almond Bliss Balls
Moringa and chocolate is one of our tried and tested combinations! These moringa chocolate almond bliss balls are a great on-the-go snack but definitely decadent enough to serve to guests too. Arrange on a beautiful plate and drizzle with dark chocolate. Nobody will guess they're healthy! 
(Makes approx.15 small balls)
Ingredients:
1 -1 1/2 tsp Aduna Moringa Green Superleaf Powder
70 g dried dates (soaked for about 2 hours) 
Heaping 1/2 cup almond meal 
1 1/2 tablespoons cacao powder
1 tbsp coconut oil 
1 pinch sea salt 
1 tsp pure vanilla powder 
1 tsp agave syrup or honey
40 g (approx.) dark chocolate
Method:
Soak the dried dates for 2 hours before preparing the balls, discard the soaking water then add the dates to a food processor with the remaining ingredients except the dark chocolate. Taste and adjust amounts of cocoa or honey to taste.
Roll the mixture into balls then refrigerate to set. Meanwhile, melt the dark chocolate over a pan of boiling water and drizzle over the bliss balls.
Finish with a sprinkle of sea salt and extra moringa powder then return to the fridge or freezer to set.
Enjoy!
Recipe by Evelina Ekologiska