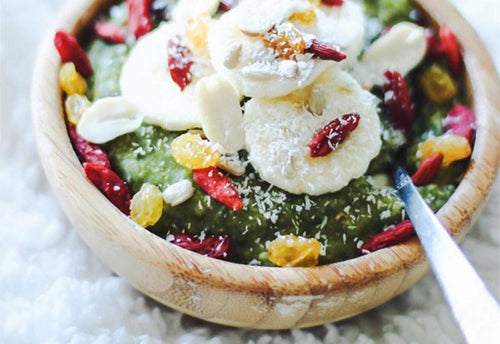 Moringa Porridge
Baobab porridge is a firm favourite among all Aduna Feel Good Tribers but not many realise that moringa is a great porridge mix-in too! Just one teaspoon adds a good hit of protein, iron, fibre, calcium and antioxidants - not to mention the vibrant green colour! 
Serves 1
Ingredients:
1 tsp Aduna Moringa Powder
1/3 cup of rolled oats
1 tbsp of chia seeds
1/2 cup of almond milk
1/2 cup of water
1 tbsp of coconut sugar
Fresh/Dried fruit for toppings
Method: 
In a saucepan over medium heat, pour the almond milk and water and when the mixture begins to heat, add the oats and chia seeds. Stir and add the moringa powder and coconut sugar. Once all the liquid is absorbed, pour into a bowl and top with fresh fruits. 
Enjoy!
Recipe by Toffee Tide