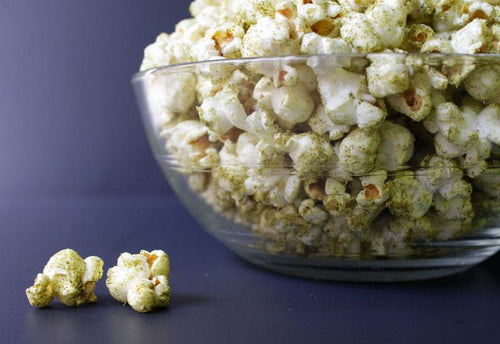 "Cheesy" Moringa Popcorn
Movies and popcorn are made to go together! We're not fans of the stuff they sell in cinemas which is usually packed with salt, sugar and hydrogenated oils. It's so easy to make your own and to actually turn it into a nutritious snack. We love this dairy-free "cheesy" version with our superfood seasoning - moringa! 
Serves 3-4 
Ingredients:
Popcorn:

100 g/ 1/2 cup popcorn kernels
6 tbsp melted coconut oil 
"Cheesy" Moringa Topping:

2 tsp (or to taste) Aduna Moringa Powder
4 tbsp nutritional yeast 
1/2 tsp sea salt
Method:
Mix nutritional yeast, moringa powder and sea salt in a small bowl.

Pop the popcorn in a popcorn machine, or in a large pot with 4 tbsp coconut oil.

If using a pot, add the coconut oil and three kernels. Cover the pot with a lid and heat to medium.

When the kernels have popped, remove them from the pot and add the rest of the kernels. Let them pop while shaking the pot every 10 seconds to make sure they don't burn.

When all the kernels have popped, put the popcorn in a large bowl.

Drizzle 2 tbsp of melted coconut oil over the popcorn. Turn the popcorn around in the bowl to coat with the oil. (you can skip this step, but the oil helps the moringa topping stick to the popcorn).

Sprinkle the moringa topping over the popcorn and mix well. Add additional salt to taste.

Enjoy!