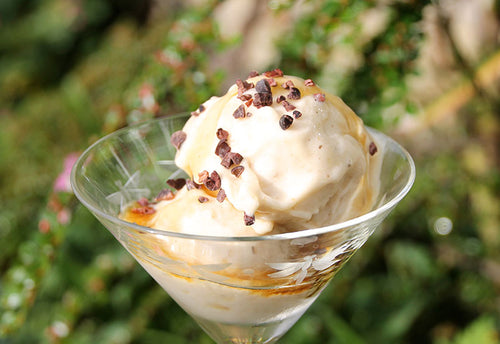 Baobab & Banana Ice-Cream
This superfood-packed sweet treat is perfect for summer. You can whip it up in under 5 minutes, and it only requires a few simple ingredients! The frozen banana creates a wonderful creamy texture, whilst the baobab complements the flavour and adds an incredible antioxidant boost.
Ingredients:
1 tbsp Aduna Baobab Powder
2 bananas, frozen
2 tbsp pure maple/agave syrup
Topping ideas:
cacao nibs
bee pollen
goji berries
a drizzle of pure maple/agave syrup
fresh raspberries
Method:
Slice your banana and freeze for at least 2 hours before making.

Add the bananas, baobab and syrup to a high-powered blender and blend until smooth. 

Sprinkle with your favourite toppings and serve immediately.

Enjoy!
Recipe by Naturally Sassy