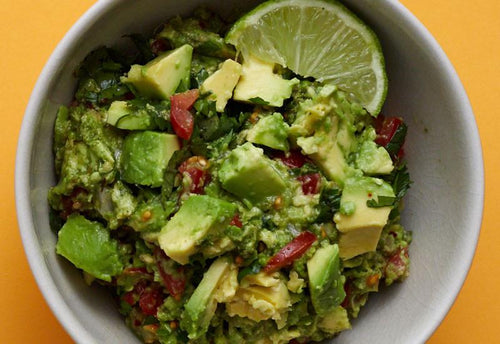 Moringa Guacamole
We can hardly think of a dish that doesn't improve with a big scoop of guacamole on top! Simple to prepare, delicious and packed with health benefits - Avocados, like moringa, are packed with vitamins and minerals for healthy skin, hair and nails. Time to get dipping! 
Serves 2
Ingredients:
2-4 tsp Aduna Moringa Powder
3 ripe avocados
1 small red onion, finely chopped
handful of cherry tomatoes, roughly chopped
handful of fresh coriander, roughly chopped
extra virgin olive oil (to drizzle)
juice of 1 lime
spices: salt, pepper, dried oregano, paprika and crushed coriander seeds (use your favourites)
Method:
Halve, stone and roughly chop the avocados.

Leave a handful of roughly chopped avocados aside.

Add the rest of the ingredients to a large bowl and use a fork to mash everything together well. 

Add the remaining avocado and stir gently to combine. Drizzle with olive oil if desired and sprinkle with extra chopped coriander.
Enjoy!
Recipe by Emina Dobardzic