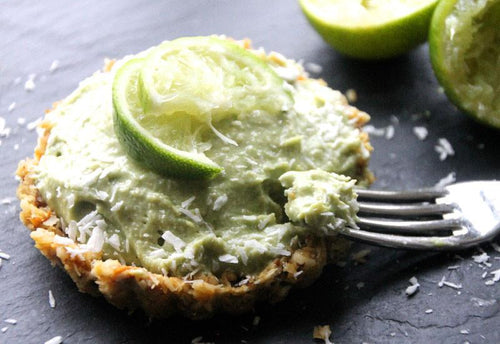 Moringa Key Lime Pie
Here is the ultimate dessert to wow your friends and family: key lime pie! This recipe is always an instant hit with everyone, and even better is that it's incredibly healthy. Unlike the usual sugar-filled, highly processed versions you can buy in the shops, this is refined sugar-free, gluten-free, grain-free and dairy-free! 
Serves 12
Ingredients:
For the crust:
2 cups brazil nuts/ pecans/ cashews
1/4 cup desiccated coconut
1 cup Medjool dates
For the filling:
2 tsp Aduna Moringa Powder
1 1/2 cups cashews (soaked for 2 hours or overnight)
1 avocado
juice of 3 limes
1/4 cup coconut oil, melted
1/2 cup canned coconut cream
1/3 cup raw honey/maple syrup/agave nectar
Method: 
For the crust:

Blend nuts in a food processor until fine. 
Add remaining ingredients and blend to form a dough.

Press the crust evenly into a spring-form cake tin or 4-6 miniature tart cases.
For the filling:
Blend all ingredients in a high-powered blender until very smooth.

Pour onto the crust and freeze for 2-3 hours.

Remove from freezer 10-15 minutes before serving.
Enjoy! 
Recipe by Naturally Sassy