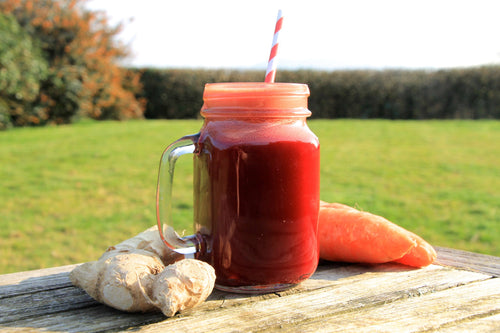 Moringa, Beetroot, Carrot & Ginger Juice
Just looking at this colourful juice makes you feel vibrant - imagine how it would make you feel drinking it! This classic ingredient combination is bursting with antioxidants and the addition of moringa gives it an extra hit of goodness that will leave you radiant. 
Ingredients:
1/2 tsp Aduna Moringa Powder
2 raw beetroots
2 large carrots
1 apple 
2" piece of ginger, or to taste
Method:
Peel the ginger and the beetroot.

Put all the ingredients through a juicer except the moringa powder.
Add the moringa powder to a glass and pour in a tiny amount of the juice. Stir well to make a paste, then gradually pour in the rest of the juice, stirring at the same time.
 
Add a couple of ice cubes if you like your juice chilled.
Enjoy!
Recipe by Naturally Sassy