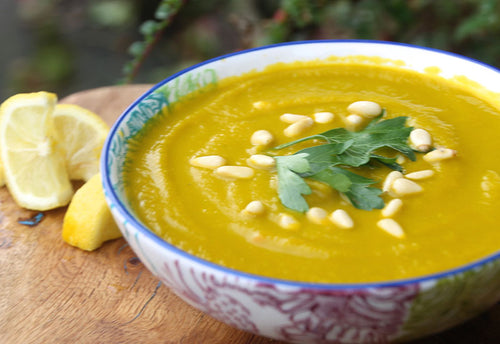 Lentil & Moringa Soup
Lentils are one of our favourite foods. They're so versatile and an amazing source of plant-based protein. Add some of our moringa to the mix and you've got one seriously protein-powered dinner! This vibrant soup recipe is just the thing for chilly winter nights - so simple, warming and nourishing. 
Serves 2
Ingredients:
1 tsp Aduna Moringa Powder
1 cup green lentils + 3 cups water
2 carrots
4 cups vegetable stock
fresh coriander, chopped
salt & pepper, to taste
Method:
Finely chop the carrots and add them to a saucepan with the lentils and water.

Bring to a boil then reduce heat and simmer for approx. 25 minutes, or until the lentils are soft. 

Leave to cool for a few minutes before adding to a blender with the remaining ingredients and blending until smooth. 

Warm through in a saucepan and serve with crusty bread.

Enjoy! 
Recipe by Naturally Sassy