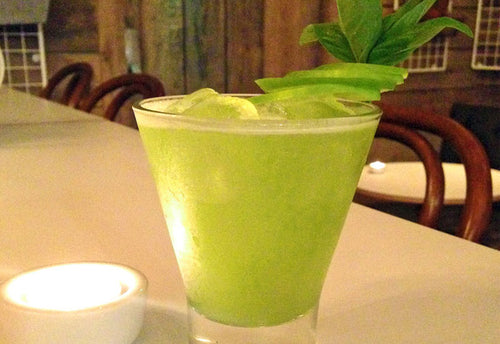 Green Moringa Miracle Cocktail
Gone are the days of the standard cocktail. Now, it's all about the superfood-packed festive high! Delicious cocktails full of vitamins, minerals and antioxidants. We've teamed up with raw food restaurant and superfood cocktail bar Tanya's Café in Chelsea, to create a new generation of cocktails using our vibrant African super-ingredients. The perfect way to boost your health and beauty from within whilst enjoying a festive drink.
Tanya Maher, founder of Tanya's Cafe, raw food specialist & professional wellness expert tells us why superfood cocktails make sense. "As a nutritionist and wellness coach, I always look for ways my clients can achieve balance in their lives. If you take antibiotics, it's imperative to take probiotics to offset the side effects. If you eat too many acid forming foods, it's vital to have lots of alkalising juice to bring up your pH levels. If you drink coffee, which is dehydrating, it's always a good idea to make up for it by drinking plenty of water or coconut water, that's full of electrolytes. If you enjoy a naughty drink once in a while, add superfoods to it which are well researched promoters of longevity and vitality. Then you can have two drinks, you know, for the balance!"
Ingredients:
1/3 tsp Aduna Moringa Powder
50ml Coarunn Gin
25ml lime juice
1/4 apple
4 basil leaves
4 drops Bobs Bitter grapefruit
Method: 
Add all ingredients to a shaker & shake hard.

Fine strain over ice into a short glass, garnish with sliced apple & basil.
Enjoy!
Recipe by Tanya's Cafe