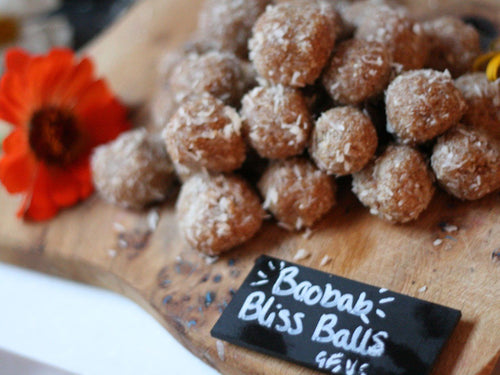 Baobab Bliss Balls
If you're looking for a pick-me-up which doesn't give you a big energy crash an hour later, look no further! Protein-rich nuts combined with dates, baobab and lemon makes these little bites really sustaining and incredibly delicious. Pop a couple in a small tupperware and carry in your handbag ready for snack attacks.
Makes 12 
Ingredients:
3 tbsp Aduna Baobab Powder
1 cup cashew nuts
1 cup brazil nuts
1 cup Medjool dates
3 tbsp lemon juice
Method:
Add the nuts to a food processor and pulse until coarsely chopped.
Add all the other ingredients and process until the mixture is homogeneous and begins to come together like a dough.
Roll into balls with your hands or press mixture into a lined pan, refrigerate, then cut into bars.

Enjoy!
Recipe by Naturally Sassy