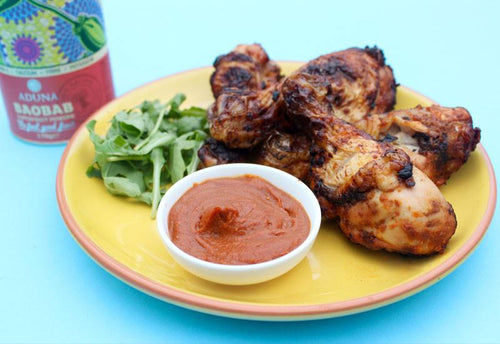 Homemade Baobab BBQ Sauce
A good sauce can transform a basic BBQ into a gourmet garden party! The problem is that most shop-bought sauces are loaded with sugar and other nasties and generally just don't taste that good...Luckily, it's not difficult to make your own with just a few simple staple ingredients. We love ours with an extra tangy twist from our Baobab superfruit powder! 
Ingredients:
2 tsp
Aduna Baobab Powder
6 tbsp tomato passata/sauce
60 ml water
1 tbsp balsamic vinegar
1 tsp honey 
1 tbsp yellow mustard
1 tsp mild/spicy curry powder
2 cloves of garlic, minced 
¼ tsp cayenne powder
pinch of salt
drizzle of extra-virgin olive oil
Method:
Heat olive oil in a saucepan over medium heat. Add garlic, curry and cayenne and sauté for a minute or 2, until golden and fragrant. 
Add the tomato passata/sauce, stir well and simmer for 20 minutes, adding the water little by little. 
Add the balsamic vinegar, salt, honey and mustard and simmer for a further 5 minutes. 
Set aside to cool, stir in the baobab powder then pour the mixture into a blender and blend until smooth. 
Serve with sweet potato chips, BBQ chicken, burgers or lamb skewers. You can also use it as a marinade before grilling. 
Enjoy! 
Recipe by Emina Dobardzic