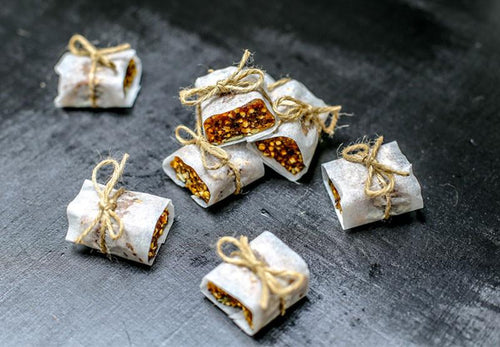 Crunchy Baobab Squares
These crunchy baobab bites are the perfect sustaining snack. The natural sugars from the fruit will satisfy any sugary cravings and the protein, fibre and healthy fats from all the nuts, seeds and baobab powder will keep your energy levels nice and stable - so you won't find yourself reaching for a chocolate bar mid-afternoon!
Makes 12
INGREDIENTS:
2 tbsp quinoa pops
1 tsp maca powder


METHOD:
Place the walnuts into your food processor and blend for a 
minute
 or two, until the walnuts are coarsely ground.


Add the dates, prunes and baobab powder and blend for a further few minutes, until you have a smooth and sticky mixture. If the mix is too dry, add 1 tbsp of coconut oil and blend again. 


Add the seeds and quinoa pops and mix in by hand until well incorporated.
Roll the mix out into a 1cm thick square and cut it to smaller 
pieces
. 
Store in the fridge.

Enjoy!