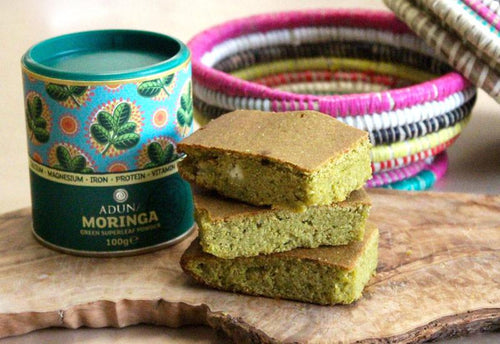 Moringa Cornbread
This cornbread makes a great addition to any meal and is just as delicious served simply with a drizzle of honey or olive oil as it is with cheese, soups and stews. Aduna Moringa gives it an extra nutrition boost, flavour and a lovely green colour! 


Ingredients

:
2 tbsp Aduna Moringa Powder
375g polenta
125g plain flour
370ml yoghurt
2 tbsp olive oil
1 tsp salt
1 tsp baking powder
1/2 tsp bicarbonate soda
2 eggs
150g feta cheese
Method:

Preheat oven to 250C. 

Place the yoghurt into a large bowl, add the rest of the ingredients one by one, and mix well to combine. Pour the mixture into a greased or lined baking tray and place into the oven.

Bake at 250C for 15 minutes then lower the heat to 180C and continue to bake for a further 20-25 minutes. 

Serve warm or cold with your favourite toppings - works well with cheese, honey or just a drizzle of olive oil.
Enjoy!
Recipe by Emina Dobardzic