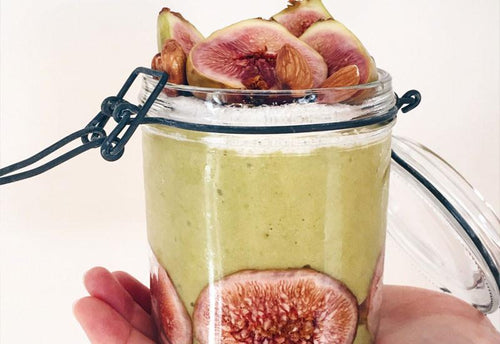 Mango, Baobab & Courgette Smoothie Jar
First there was courgetti and then there were zoats...Now, meet courmoothie?
You might think courgette in a smoothie sounds a little strange but we promise you can't taste it! When it's frozen and added to a fruity smoothie like this one, it blends right in and only adds to the thick and creamy texture. Try this trick with your favourite smoothie or try our favourite combination- Mango, Banana & Baobab topped with coconut, figs and almonds.
Serves 1
Ingredients
2 tsp Aduna Baobab Powder
1/2 large frozen banana
1 small frozen courgette
1/2 mango

To serve: coconut flakes, fresh figs and almonds
Method:
Blend together all ingredients in a high-powered blender, until smooth. Spoon into a jar or bowl and decorate with fresh figs, coconut flakes and almonds. 
Enjoy! 
Recipe by Kati Boden