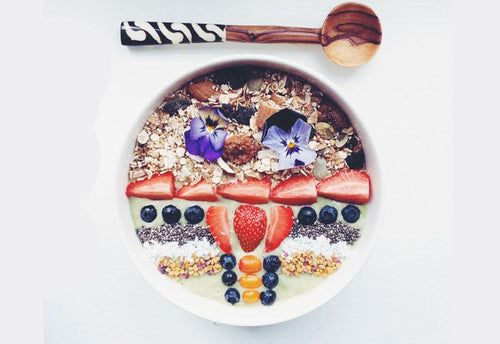 Creamy Moringa Green Smoothie Bowl

This creamy green smoothie bowl by Aduna Feel Good Triber Anni hits the spot when we're in the need of something ultra nourishing and soothing. The healthy fats from the avocado and yoghurt will keep you going all morning and adding a teaspoon of moringa is a great way to get a head start on your greens intake for the day. 
Ingredients:
1 tsp Aduna Moringa Powder
1 large banana
1 (scant) cup diced Granny Smith apple (or choose another crisp apple variety)
1/2 small avocado
150g natural or dairy-free yoghurt
Method:
The night before, core and dice the apple and freeze overnight.
In the morning, simply blend all ingredients together until smooth. 
Top with muesli, berries, seed, bee pollen or your other favourite toppings.
Enjoy!
Recipe by Anni Kravi