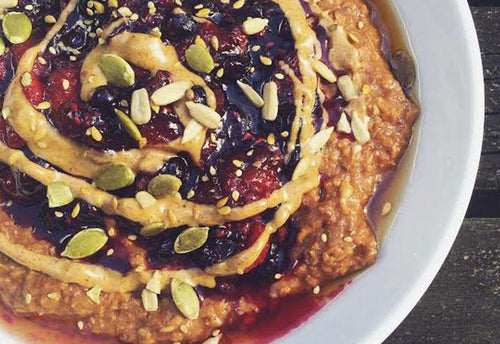 Cacao, Coconut & Baobab Porridge with Sour Cherry Syrup
As the mornings get colder we tend to crave something warm and comforting that will keep us full until lunchtime. This porridge bowl by Aduna Feel Good Triber Rebecca Eliza ticks all those boxes and tastes delicious too! We love the combination of citrusy baobab, creamy coconut and a tangy sour cherry syrup. 
Ingredients:
Porridge:
1-2 tsp Aduna Baobab Powder
1 1/2 cup coconut milk (can substitute with other dairy-free milk like almond or soya)
1-2 tsp coconut oil
1 tbsp raw cacao powder
1-2 tbsp desiccated coconut
1/2 cup oats
1 tbsp chia seeds
1 tbsp ground flax (or whole flax seeds)
Sour Cherry Syrup:
2-3 tbsp sour cherry jam
2 tbsp maple syrup
pinch of sea salt
Topping:

1-2 tbsp coconut almond butter (cashew or natural peanut butter would work as well)
Seed mixture (I use a mix that includes sunflower, sesame, pumpkin and flax)
Method:
In a small pan, combine the jam and syrup and simmer over a low heat while you prepare the porridge. I like to add a pinch of sea salt to balance the sweetness.
In a medium saucepan, combine the coconut milk, coconut oil, cocoa powder, baobab, and desiccated coconut. Simmer over a medium heat until the milk starts bubbling, then reduce the heat to low and add the oats, chia seeds and ground flax.

Stir well for 3-5 minutes, until the porridge has reached your desired texture. Some like it very liquid, others a little thicker.
Spoon the porridge into a bowl and top with the cherry syrup. Drizzle coconut almond butter on top and sprinkle with seeds.
Enjoy! 
Recipe by The Zesty Lime