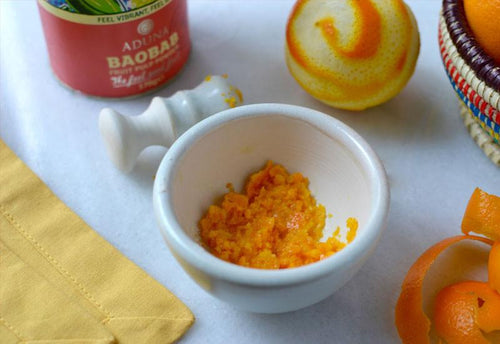 Baobab & Orange Revitalizing Face Mask
Not only does Baobab make you feel good from within, when added to your beauty regime it can help you glow from the outside too! Combined with the beautifying benefits of orange peel, this all-natural face mask is a quick and easy way to soothe and revitalise tired-looking skin. 
Orange Peel - contains regenerative properties that can soothe dry, irritated, or acne-prone skin. 
Vitamin C - boosts collagen production and 

combats free radicals that destroy functioning skin cells, helping to plump your skin.
Calcium - contributes to renewal of worn-out skin cells and prevents DNA damage.
Baobab - An antioxidant powerhouse, containing high levels of vitamin C and Polyphenols, making it the perfect beauty booster.
Antioxidants - 

Thanks to their free radical scavenging ability, they help prevent premature skin ageing and reduce the speed at which the skin cells age. Baobab contains over two times the antioxidants (per 100g) of goji berries and more than blueberries and pomegranates combined.
Vitamin C - 

vital for cell protection, regeneration & healthy blood vessels and one of the best skincare ingredients for anti-ageing.
Polyphenols - 

Baobab's polyphenol content is higher than most other fruits. Polyphenols are antioxidant plant chemicals including flavonoids, bioflavonoids, flavanols and tannins, which are often used in anti-ageing skin cream formulations.
Ingredients:
1 tsp Aduna Baobab Powder
2 orange peels
Clean fresh water
Method:
Using a blender or a pestle and mortar, grind/ blend the orange peel. Add the Baobab powder to the orange peel and gradually add a little water to make it into a paste.
Rinse your face with clear water and pat dry. Apply the orange paste to your face and/or any problem areas.
Leave the mask on your skin for 20-25 minutes. Rinse with warm water then pat the skin dry with a clean, dry towel.
Glow! 
Recipe by Aduna