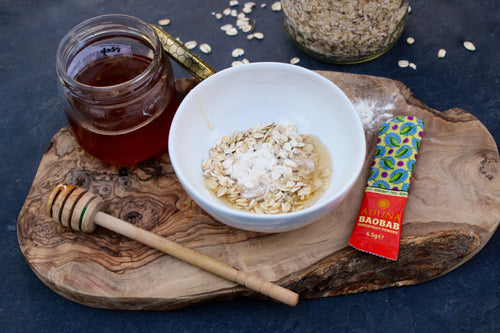 Baobab, Honey & Oat Face Scrub
Combining the natural healing properties of honey, oats and Baobab this gentle exfoliating scrub will help to boost circulation and gently remove dead skin cells, leaving the skin looking bright and radiant! 

Honey - naturally anti-bacterial making it great for acne treatment and prevention.
Full of antioxidants, helping to slow down the ageing process.
Soothing and moisturising, boosting complexion and natural glow.
Opens up pores, making them easy to unblock and clarify.
Oats - Soothing, nourishing, and softening, oats are also a gentle exfoliator.
Glycerin - Used for its moisturising properties (if unavailable, sub coconut oil)
Baobab - An antioxidant powerhouse, containing high levels of vitamin C and polyphenols, making it the perfect beauty booster.
Antioxidants - 

Thanks to their free radical scavenging ability, they help prevent premature skin ageing and reduce the speed at which skin cells age. Baobab contains over twice the antioxidants (per 100g) of goji berries and more than blueberries and pomegranates combined.
Vitamin C - 

vital for cell protection, regeneration & healthy blood vessels and is one of the best skincare ingredients for anti-ageing.
Polyphenols - 

Baobab's polyphenol content is higher than most other fruits. Polyphenols are antioxidant plant chemicals including flavonoids, bioflavonoids, flavanols and tannins, which are often used in anti-ageing skin care formulations.
Ingredients:
Makes 50g 

2 tsp Aduna Baobab Powder (mixed with 2 tsp water)
1 tbsp jumbo oats
2 tbsp glycerin (OR coconut oil)
1 tsp honey
Method:
Using a blender or a pestle and mortar, grind/ blend the oats into a fine powder.
Place the oat powder into a bowl and mix in the remaining ingredients. 
Gently massage the scrub into clean skin, carefully avoiding the eye area.
Rinse with warm water then pat the skin dry with a clean, dry towel.
Glow!

(Storage: store in a sterilized jar with a close-fitting lid in the fridge for up to 6 weeks)
Recipe by Aduna