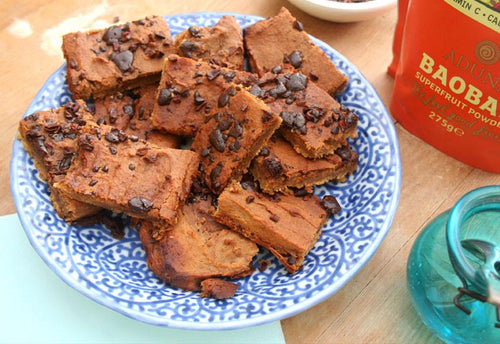 Baobab & Choc Chip Chickpea Blondies
Not only are our good friend chickpeas delicious in savoury dishes but they're perfect in desserts too! By swapping flour with them we get an extra hit of plant-based protein and nutrients, which, combined with nut butter and our baobab powder, make these blondies the perfect energy-boosting snack. 
INGREDIENTS:
2 tbsp
Aduna Baobab Powder
1 can chickpeas, rinsed and drained
1/3 cup all natural nut butter of choice (we used almond butter)
1/3 cup maple syrup
1 tsp vanilla extract
1/2 tsp Himalayan sea salt
1/4 tsp baking powder
1/4 tsp baking soda
1/3 cup combination of chopped dark chocolate and cacao nibs (+ a little extra to sprinkle on top)
METHOD:
Preheat the oven to 180'C and lightly grease a 20x20 cm pan with coconut oil.

Combine all the ingredients, except the chocolate chunks/nibs in a food processor until the batter is smooth. Once smooth, gently fold in the chocolate and nibs, just to incorporate. 

Pour the mixture into the pan spreading evenly with a lightly greased spatula or spoon.
Sprinkle the extra chocolate and nibs on top and bake for 20-25 minutes, until lightly browned and a toothpick comes out clean.

Once deliciously golden, leave to cool on a rack for 20 minutes before slicing them up into 12 blondies.
Enjoy!

Recipe by Birch Bowl