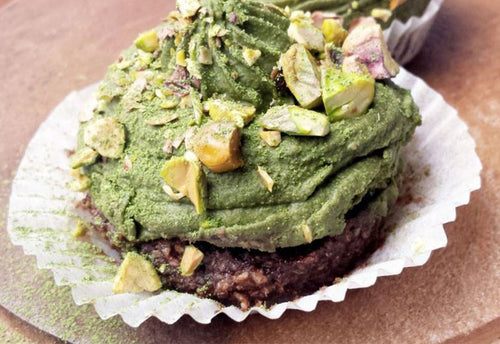 Raw Moringa Cupcakes
Everyone loves a cupcake but they aren't usually the healthiest option. These Raw Moringa Cupcakes by Aduna Feel Good Triber Anna and the Veggielicious family is a little different! Completely raw and made from nourishing seeds, fruit and our #moringamiracles, these cupcakes are still rich and indulgent-tasting but will leave you feeling vibrant and energised not sleepy and sluggish after a sugar high.
Makes 4-6 cupcakes 
Ingredients:
For the base:
1 cup sunflower seeds
1 cup soft pitted dates
2 tbsp raw cacao powder
1 tsp vanilla powder or extract
A splash of filtered water
For the frosting/mousse:
1/2 tbsp Aduna Moringa Powder
3-4 ripe organic bananas (depending on the size)
1 ripe avocado
1 tsp vanilla extract
1 tbsp liquid sweetener of your choice (maple syrup, coconut nectar, etc.)
6 tbsp melted coconut oil
A splash of filtered water
Method:
Line a cupcake pan with cupcake cases or silicone moulds.

In a food processor, blend the seeds until a fine powder. Add all other ingredients for the base and blend until the mixture sticks together when pressed between finger and thumb. Press the mixture into the prepared cupcake cases and place the tray in the fridge while you prepare the frosting.  

Blend together all the ingredients in a high-powered blender until completely smooth. Use a piping bag to pipe the frosting on the cupcakes (or spread with a knife) then sprinkle with chopped pistachios.

Return them to the fridge for at least a couple of hours, until set.
Enjoy!
Recipe by Veggielicious