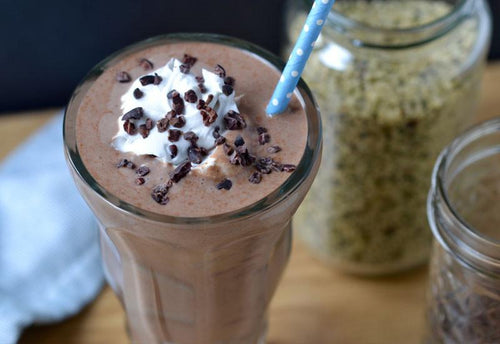 Creamy Super-Cacao & Coconut Milkshake
This indulgent tasting Super-Cacao & Coconut Milkshake makes a great post-workout meal or guilt-free snack. With a mix of protein and healthy fats, it will leave you feeling full for hours. Chocolate lovers slurp away! 
Serving(s)
INGREDIENTS:
Chocolate milkshake:
1 tbsp Aduna Super-Cacao Powder (+ extra for sprinkling)
1/2 frozen banana
1 tbsp nut butter
1/2 tbsp hemp seeds
1 tbsp chia seeds
1 1/2 cups of milk of choice
4 ice cubes

Coconut whipped cream:
150ml coconut cream*
1 tbsp cacao nibs for topping
METHOD:
Add all the ingredients to a high-powered blender and blend until smooth and creamy.

Keep milkshake refrigerated whilst you make the whipped cream.

Place coconut cream into a medium bowl and, using an electric or hand-held whisk, whisk until fluffy (this can take 10 minutes depending on your method).

Top the milkshake with the whipped coconut cream and sprinkle with cacao nibs and a little extra Super-Cacao powder.
*You can also use full fat coconut milk that has been placed in the fridge and allowed to separate for 2 hours/ overnight. Use the thick mixture at the top of the can. 

Enjoy!