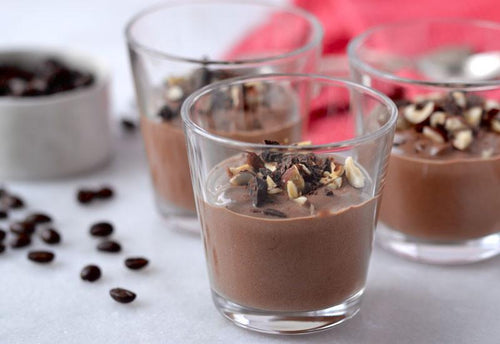 Healthy Mocha-Hazelnut Mousse
Our Super-Cacao powder adds a powerful nutrition boost and delicious flavour to anything it touches but we especially love it in this rich chocolatey dessert with a hint of coffee and hazelnut. It might just be the healthiest chocolate mousse around!

Serves 4-6


Ingredients:
1/4 cup roasted hazelnut butter
1/3 cup coconut sugar
1 tsp vanilla extract
1 tsp instant coffee powder
Pinch of salt


Method:
Blend together all ingredients in a high-powered blender or food processor until smooth.


Pour into ramekins or small glasses and chill in the fridge for at least 2 hours.

Before serving, sprinkle with roasted hazelnuts and grated dark chocolate.

Enjoy!