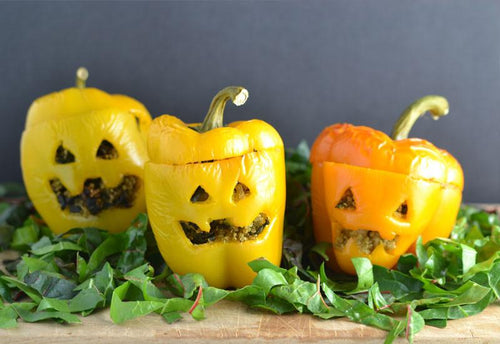 Moringa, Sun-Dried Tomato & Cashew Quinoa Stuffed Peppers
Get in the Halloween mood with a spooky superfood supper! These fun stuffed peppers are the perfect thing to serve up on the 31st - ultra easy to make, bursting with nourishing green goodness and utterly moringalicious. 
Makes 4-5
Ingredients:
2 tsp Aduna Moringa Powder
2 cups cooked quinoa
4-5 medium bell peppers (orange and yellow are best for Halloween "pumpkins"
1 tbsp olive oil
1 onion, diced
1/2 cup cashews
2 cloves of garlic, minced
1 tsp dried oregano
handful of fresh basil leaves
4-5 sun-dried tomatoes, rehydrated or oil-packed and chopped
generous handful of chopped leafy greens (kale, spinach, chard, etc.)
2-3 tbsp water
salt and pepper to taste
Method:
Preheat the oven to 180C.

Heat the oil in a pan pan over medium heat, add the onion and cook for 5 minutes, stirring, until translucent. Add the cashews, garlic and oregano and continue to cook for a further 5 minutes, until the cashews start to brown. Add the sun-dried tomatoes, greens and water, season well then cook until the greens wilt.

Stir through the quinoa and moringa powder, adding a little more water if the mixture looks dry.

Slice off the tops of the peppers and remove cores and seeds. Carefully cut out a halloween face in the peppers using a sharp knife.

Spoon the filling into the peppers, place the tops back on, place on a baking try and cook for 20 minutes, until the peppers are tender.

Delicious served with hummus and a green salad.
Enjoy! 
Recipe by Coconut and Berries