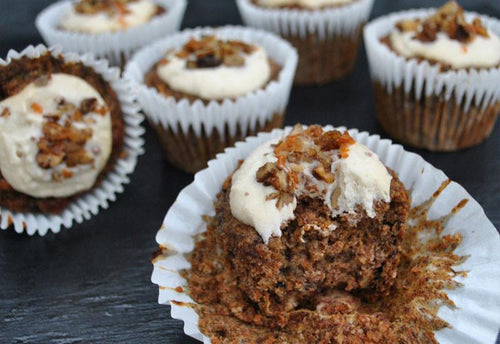 Spiced Baobab, Carrot & Persimmon Cupcakes with Orange Cashew Cream Frosting
Carrot cake is an all time favourite for many dessert lovers, but it's often filled with refined sugar and nasties. Sweetened with date nectar, baobab and spices, these carrot & persimmon cupcakes are the perfect healthy treat to go with your afternoon tea. With baobab in the frosting too you'll be getting a double dose of the #feelgoodfruit!

Serves 10-12
Ingredients:
Cupcakes: 
1 tbsp Aduna Baobab Powder
1 large/2 small carrots, grated
1 ripe persimmon, diced
2 tbsp date nectar or preferred liquid sweetener
1 1/2 cups gluten-free flour
2 tsp baking powder
1 tsp baking soda
1/4 tsp salt
1 tsp mixed spice
1 tsp cinnamon
1 tsp ground nutmeg
Handful of chopped walnuts and raisins
1/2 cup non-dairy milk
1 egg (or flax egg: 1 tbsp ground flax + 4 tbsp water), beaten

Frosting:
1-3 tsp Aduna Baobab Powder
1 cup of cashews, soaked overnight and drained
1 tsp orange blossom water
Zest of 1 orange
1 tbsp coconut oil
Water
Method:
Preheat oven to 180C and line a cupcake tray with cupcake cases.

Add the grated carrots, persimmon and date nectar to a food processor and blitz until smooth.
Sieve the flour, baking powder, baking soda, salt, spices and baobab into a large bowl and stir in the chopped nuts and raisins. Make a well in the dry ingredients and add in the milk, egg and blended carrrot-persimmon mixture. Mix just until combined.

Spoon mixture into cupcake cases and transfer to oven and bake for 15-20minutes. Remove from oven and leave to cool for 5mins before removing from tray to cool completely. 
Blend all the frosting ingredients until smooth, adding water until it reaches your desired consistency. Spread the frosting over the cupcakes and top with walnuts and orange zest.
Enjoy!
Recipe by Emma Barbour.