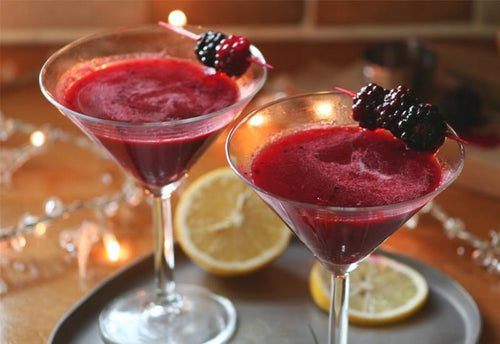 Berry, Gin and Baobab Bramble
Tis' the season to be merry and we can't think of a merrier way to celebrate Christmas than by treating our loved ones to a sophisticated glass of berry and gin heaven infused with a healthy dose of #baobablove. 
Serves 2
Ingredients:
2 tsp of Aduna Baobab Powder
3 tbsp of gin
1 1/2 tbsp of crème de mûre
2 tsp of honey
1 1/2 tbsp of fresh lemon juice
Handful of blackberries (+extra to garnish)
Ice and soda water to taste
Method:
In a blender, add a handful of blackberries with a dash of water, the honey, gin, crème de mûre and lemon juice and blend until combined. 
If using a cocktail shaker, transfer the berry liquid into the shaker along with the Baobab powder and ice and shake vigorously. Alternatively add the Baobab powder to the blender when mixing the other ingredients.
Pour your baobalicious cocktail into two chilled martini glasses with a little ice and garnish with some extra blackberries threaded onto a tooth pick. Top up with soda water and Cheers!
**For crushed ice alternative, add ice to a blender and pulse.


Recipe by Birchbowl.