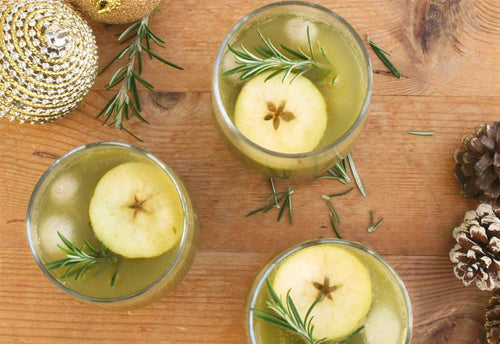 Apple, Rosemary & Moringa Gin Cooler


What better way to get a healthy dose of #moringamiracles this season than to enjoy it in a celebratory cocktail? Fresh apple juice is paired with moringa, rosemary and gin and poured over ice to make for a refreshing superfood fuelled take on the classic Gin Cooler. Cheers to that Aduna Feel Good Tribers!
Serves 2
Ingredients:
1 tsp of Aduna Moringa Powder
3 green apples (+ extra slices to serve)
3 tbsp of gin
1 tbsp honey
2 tbsp lemon juice
2 sprigs of rosemary
Soda water
Ice
Method:
De-core the apples and juice. In a cocktail shaker or lidded container add the apple juice, lemon juice, moringa powder, honey and gin and shake vigorously.

Pour over ice into two chilled tumblers, add the sprig of rosemary, extra apple slices and top up with soda water for a thinner cocktail.
Enjoy!

Recipe by Birchbowl