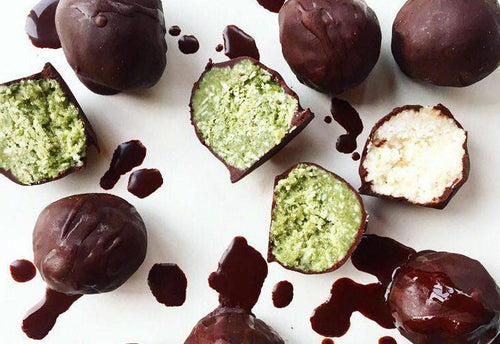 Moringa Bounty Balls

We all need a little sweetness in our lives from time to time and Christmas just wouldn't be Christmas without a box of chocolates to pass around. Impress your friends and family this year with these extra special homemade treats from Aduna Feel Good Triber Kaja. The creamy coconut filling and chocolate coating is a classic combination but this version is super-charged with our mighty moringa and there's no refined sugar or dairy in sight!

Makes 15 balls
Ingredients:
Coconut filling:
1-2 tsp Aduna Moringa Powder
1/2 cup cashews (soaked for 1 hour)

1 1/2 cups shredded coconut

2 tbsp maple syrup
4 tbsp coconut oil
1 tsp vanilla extract


Raw chocolate for dipping: 
6 tbsp raw cacao powder
6 tbsp melted coconut oil
2-3 tbsp maple syrup


Method:
Blend together all ingredients for the coconut filling in a blender or food processor. Use your hands to make about 15 small balls. Refrigerate until ready to coat in chocolate. 

Whisk together the ingredients for the chocolate coating until smooth. Dip the balls in the mixture with a fork, place onto a tray or plate lined with parchment paper and freeze for at least 30 minutes before eating. Store in the fridge.

Enjoy! 
Recipe by Kajaand